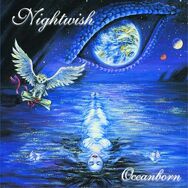 Oceanborn is the second studio album by Finnish symphonic metal band Nightwish. It was recorded in Caverock Studios from August to October in 1998, and released in November of that year. This album included single Sacrament of Wilderness, that reached number 1 on finnish singles charts, and stayed there for several weeks. Several other singles was released from this album, including Sleeping Sun, Walking in the air and Swanheart - all released on a singles-compilation named Sleeping Sun (Four ballads of the Eclipse). The single "Walking in the Air" is a cover of Howard Blake's song with the same name, from "The Snowman's" soundtrack.
The album itself reached number 5 on Finnish albumcharts.
This album is somewhat of a milestone in Nightwish's career, as it is the first time that they ever recorded a song with a guest vocalist - Tapio Wilska, previous member of Finntroll - on the songs Devil & the deep dark ocean and The pharao sails to Orion.
Track Listing
Edit
"Stargazers" (originally titled "Aztecs") - 4:28
"Gethsemane" - 5:22
"Devil & the Deep Dark Ocean" (feat. Tapio Wilska) - 4:46
"Sacrament of Wilderness" (first single) - 4:12
"Passion and the Opera" (promo single) - 4:50
"Swanheart" - 4:44
"Moondance" (instrumental) - 3:31
"The Riddler" - 5:16
"The Pharaoh Sails to Orion" (feat. Tapio Wilska) - 6:26
"Walking in the Air" (Howard Blake cover) - 5:31
"Sleeping Sun" (bonus track) - 4:05
"Nightquest" (japanese bonus track) - 4:17
Personnel
Edit
The band

Main Crew

Tero Kinnunen - Sound engineer
Mikko Karmila - Mixing
Mika Jussila - Mastering engineer
Maria Sandell - Cover Artwork