Hydra
Album info
Release
January 31, 2014 (EU)
February 4, 2014 (NA)
Recorded
2013
Genre
Symphonic metal
Length
49:16
90:57 (with bonus tracks)
Label
Nuclear Blast, Dramatico, BMG, Universal Music
Producer
Daniel Gibson
Hydra is the sixth studio album by the Dutch symphonic metal band Within Temptation. It was released on January 31, 2014 in Europe and on February 4, 2014 in North America. The album contains guest appearances by metalcore singer Howard Jones (ex-Killswitch Engage), rapper Xzibit, classical-crossover/symphonic metal vocalist Tarja Turunen (ex-Nightwish) and alternative rock singer Dave Pirner (Soul Asylum). The first single, "Paradise (What About Us?)", was released on September 27, 2013, and featured Turunen as guest vocalist.[1] The second single, "Dangerous", was released on December 20, in which Jones provided the male vocals.[2]
The album title refers to the great musical genres variation the band improves on each new release. About the concept, guitarist Robert Westerholt says: "'Hydra' is a perfect title for our new album, because like the monster itself, the record represents the many different sides of our music."[3] According to the ancient Greek mythology, the Hydra was a giant multi-headed serpent that could not have its heads cut off and, for each decapitated, two more sprang forth.[4]
Background and composition
Edit
The writing process of the album began in 2012, and at the first half of the year the band has 6 songs written already.[5] The album was scheduled to be released worldwide in September, by their new label, BMG[6][7] and in the Netherlands by Universal Music.[8]
On 16 June, without finishing the whole album, the band went on to record the first music video for the new album.[9] During a series of statements about the recording progress of the album, Westerholt stated that the album would contain growls.[10] At the middle of May, bassist Jeroen van Veen went to the studio to record the bass base for the first five songs.[11] The band eventually got a North American sign deal with Nuclear Blast. The band also established a licensing deal with Dramatico for the United Kingdom release of the album.[12] Once the drumming and vocal recording were complete, the final guitar recordings started on August 26[13] and finished on October 22.[14]
On August 30, the band announced that the lead single Paradise (What About Us?) would be released as an EP, which was also set to feature 3 tracks from the upcoming album in their demo form, being them "Let Us Burn", "Silver Moonlight" and "Dog Days". Upon making this announcement, den Adel said: "By releasing these demos we want to invite you in our home studio and show how we capture song ideas at an early stage of creating a new album. These demo versions are far from their final sound on the album, but will give you a hint of what we're working on. It will be fascinating to hear how the end result will sound like, once the album is released.". After announcing that the lead single would contain a guest musician, on September 13 the band officially announced that Tarja Turunen was set to appear as a special vocalist on the title song.[15]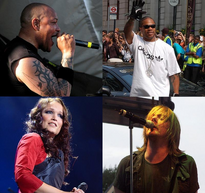 The album's name was only revealed on November 8, alongside with the official tracklist, all guest musicians and the cover art,[16][17] done again by Romano Molenaar, the same artist who made the cover for The Unforgiving.[3]
As the title, the sound composition of the album was said to be variated, as Westerholt said, also referring to the album title, that they "wanted it to be a real Within Temptation record, but heavier, more musically challenging, pushing borders and frontiers with new elements and influences, and at the same time bring back more from our early metal roots... a bit like the past and future at the same time.". During an interview for Ultimate Guitar Archive, den Adel said that the main improvement on the last two records, in which is the transition to the symphonic metal itself to a more variated and multi-oriented sound, came from the fact that the band was considering itself "being in a box" where it could only sound in a restricted way inside its own genre and, having sold out all the possible elements in their 2007 release The Heart of Everything, the band decided to "let all boundaries go musically where [they] were not allowed to go" and improve their sound with "anything [that] can come out" and fit on the album.[18]
"Well, the case is more the fact we let go of a certain way of songwriting how we used it in the past. Like, in the past, we had a certain idea about how we wanted to sound and what we were allowed to be within our genre. Nowdays we feel like with "The Heart Of Everything", we felt like we finalized this symphonic kind of sound we were searching for all those years." |source= — Sharon den Adel about incorporing new elements outside the symphonic metal genre.[19]
Structure and inspirations
Edit
On answering a fan during a row of questions and answers on twitter, den Adel commented that the main inspiration for the songs on the album were the big things in life.[20] The first track, Let Us Burn, is more guitar-oriented with less orchestrations and presents an air of melancholy, in order to propose "real direct emotion in a way".[21] Dangerous, the second track and second single, is about thrill seekers and daredevils,[22] illustrating people who need to live on the edge. The song contains fast riffs, distorted synthesizers, an over-use of drum bass in comparing with the band typical musical structures[23] and features a fast and heavy uptempo nature that matters well the subject[24] as also the music video, that features renowned skydiver Jokke Sommer performing gliding through the air and pulling off stunts. And We Run was the band first track ever to contain rap vocals in an unexpected duet with American rapper Xzibit. According to den Adel, the main fact that the band decided to invite him was his open-mind for experimenting. The song introduces itself with a piano and den Adel's clean singing right to chorus when she uses her high voice until Xzibit enters contrasting with his rap vocals and dark and deep voice. Xzibit was allowed to do his parts in his own way as the band wanted it to be original and coming from the rapper's perspective.[24] According to Westerholt, there was an initial criticism about the collaboration, as it appeared to run so far from their original musical style, and then an unexpected praise for the song.[25] The first track to be revealed was Paradise (What About Us?). As it is closer to their symphonic metal roots, the band choose to invite musical genre fellow and former Nightwish vocalist Tarja Turunen, as it is also on her comfort zone.[25] On collaborating with Turunen, den Adel stated that they "immediately clicked, not only creatively but personally" as "it felts completely natural that [they] would do this together".[26] The song features lots of strings, fast drums, heavy guitars and orchestrations as den Adel delivers a lighter and more natural tone and Turunen a deeper and more powerful singing.[27] Lyrically the song is about collectivity and it is based on the speech given by retired four-star general Peter van Uhm on May 4, 2013, which addressed the importance of not thinking only of "yourself" or "them", but "us".[28] On reviewing the earlier EP, critic Simon Bower described it as "every female fronted metal fan utopian song" mainly because of the cited duet.[29]
Promotion
Edit
On July 12, the first material came to the public eye, with the band revealing a teaser trailer, with no title or song titles revealed.[30][31][32] In the next month, the band announced the title of the lead single, in which was "Paradise (What About Us?)", also uploading a teaser trailer revealing some lyrics and a guitar solo in anticipation for the release. The music video and EP were released on September 27, and went well on iTunes sales, reaching 4th on iTunes European music charts right on the day of its release[33] and 17th worldwide.[34] On October 25 and 26, den Adel and Westerholt presented an unknown number of songs to the press.[35][36] The official teaser trailer came out on November 8, alongside with the official announcement of the album name and release dates.[37] On November 21, the band revealed that it was working again with director Patric Ullaeus, who made the video of "Mother Earth", on two new music videos to promote the album, being them "Dangerous" featuring Howard Jones, which was released on December 20,[2] and "Whole World is Watching" featuring Dave Pirner.[38] At the end of November, Sharon traveled to Finland to start promoting the album on a radio station[39] and present it to the press in France, Germany[40] and the United Kingdom.[41] On December 4, the first show of the upcoming promotional tour, at the Heineken Music Hall, Amsterdam, was sold out.[42] During the promotional travelings, den Adel gave critics and radio stations access to the recording, and the first public impression from the album came through German radio station Rock Antenne, which classified the album as "fast" and "heavy" and gave it a score of 5/5.[43] The third single, "Whole World Is Watching", was the chosen song for the album promotion in Poland, debuting on polish radio station on January 10, 2014, in a special version featuring Polish singer Piotr Rogucki.[44][45] The band then went on a special trip to the United States to promote a listening party in Los Angeles on January 24, with the presence of den Adel, Westerholt and Jolie,[46] a signing session in New Jersey[47] and to promote the album on radio stations.[48] In the meantime, the band appeared for the first time on the cover of an American magazine.[24] The third promotional song, "Whole World is Watching", premiered first on the Polish national radio station Polskie Radio Program III. The Polish version of the song features the native singer Piotr Rogucki instead of Pirner.[49] A few days later, on January 15, 2014, the main version of the song, featuring Pirner, was released as a promotional song on Dutch/Belgian radio station Q-music.[50] As heading back to Europe, the band went on to visit popular Dutch radio stations such as 538 and 3FM and television programs[51] for interviews and acoustic performances.[52][53] On January 20, the band announced a try-out show for the upcoming tour at the Effenaar, in Eindhoven (NL), to be held on February 20, having the tickets sold out on the same day.[54] The tour was originally planned to start on January, 2014, but then it was postponed to a month later, so the band could polish more the songs before releasing the album and also have more time to rehearsals for the following tour.[55] After this period of radio and television appearances for acoustic performances and interviews, the band is scheduled to embark on the Hydra World Tour, engaging on a try-out show on February 20 at the Effenaar, Eindhoven. Tickest for the show were completely sold out at the same day it was put on sale.[56] The first official show occurred on February 26, in Helsinki, Finland, and the arena tour is going to pass primarily in Europe before abrange the summer festivals season. Due to great demand, several venues were changed to big ones in the purpose to comport more people as well as additional shows were announced.[57][58]
Track listing
Edit
All lyrics written by Sharon den Adel and Robert Westerholt, except where noted.
| # | Track title | Lyrics | Music | Length |
| --- | --- | --- | --- | --- |
| 1. | "Let Us Burn" | den Adel, Westerholt, Daniel Gibson | Westerholt, Gibson | 5:31 |
| 2. | "Dangerous" (featuring Howard Jones of Devil You Know) | | Westerholt, Gibson | 4:52 |
| 3. | "And We Run" (featuring Xzibit) | den Adel, Westerholt, Alvin Joiner | den Adel, Westerholt, Joiner | 3:50 |
| 4. | "Paradise (What About Us?)" (featuring Tarja Turunen | | den Adel, Martijn Spierenburg | 5:22 |
| 5. | "Edge of the World" | | den Adel, Juno Jimmink | 4:55 |
| 6. | "Silver Moonlight" | | den Adel, Spierenburg | 5:17 |
| 7. | "Covered by Roses" | | den Adel, Spierenburg | 4:48 |
| 8. | "Dog Days" | | den Adel, Spierenburg | 4:47 |
| 9. | "Tell Me Why" | | Westerholt, Gibson | 6:12 |
| 10. | "Whole World Is Watching" (featuring Dave Pirner (Piotr Rogucki from Coma on the Polish edition) | den Adel, Westerholt, Gibson | Westerholt, Gibson | 4:03 |
Bonus tracks
| # | Track title | Writer(s) | Length |
| --- | --- | --- | --- |
| 11. | "Radioactive" (Imagine Dragons Cover) | Ben McKee, Daniel Platzman, Dan Reynolds, Wayne Sermon, Alexander Grant, Josh Mosser | 3:15 |
| 12. | "Summertime Sadness" (Lana Del Rey Cover) | Lana Del Rey, Rick Nowels | 4:07 |
| 13. | "Let Her Go" (Passenger Cover) | Michael David Rosenberg | 3:44 |
| 14. | "Dirty Dancer" (Enrique Iglesias Cover) | Enrique Iglesias, Nadir Khayat, Evan Bogart, Erika Nuri, David Quiñones | 4:15 |
| 15. | "And We Run" (Evolution Track) | den Adel, Westerholt, Joiner | 5:41 |
| 16. | "Silver Moonlight" (Evolution Track) | den Adel, Spierenburg | 6:05 |
| 17. | "Covered By Roses" (Evolution Track) | den Adel, Spierenburg | 4:43 |
| 18. | "Tell Me Why" (Evolution Track) | Westerholt, Gibson | 5:00 |
Japanese deluxe edition (limited edition) bonus tracks
| # | Track title | Writer(s) | Length |
| --- | --- | --- | --- |
| 19. | "Grenade" (Bruno Mars Cover, actually track 15 on CD) | Bruno Mars, Philip Lawrence, Ari Levine, Brody Brown, Claude Kelly, Andrew Wyatt | 3:45 |
| 20. | "The Power Of Love" (Frankie Goes to Hollywood Cover, actually track 16 on CD) | Peter Gill, Holly Johnson, Mark O'Toole | 4:01 |
Deluxe Box Set
Edit
a 2CD Media Book (the entire premium version of the album, including the bonus tracks mentioned above)
a double vinyl gatefold
a songbook with all of the lyrics
a CD with instrumental versions from tracks 1 to 10
an exclusive WT guitar pick
packaged in an LP size Deluxe Box Set
Personnel
Edit
Within Temptation
Guest musicians
Xzibit - Vocals on "And We Run"
Howard Jones - Vocals on "Dangerous"
Dave Pirner - Vocals on "Whole World Is Watching"
Tarja Turunen - Vocals (on "Paradise (What About Us?)"
Piotr Rogucki - Vocals on "Whole World Is Watching" (Polish Edition)
Release history
Edit
Region
Date
Label
Format(s)
Japan
January 22, 2014
CD, digital download, vinyl
Europe
January 31, 2014
BMG
North America
February 4, 2014
Nuclear Blast
United Kingdom
Dramatico
References
Edit
Community content is available under
CC-BY-SA
unless otherwise noted.